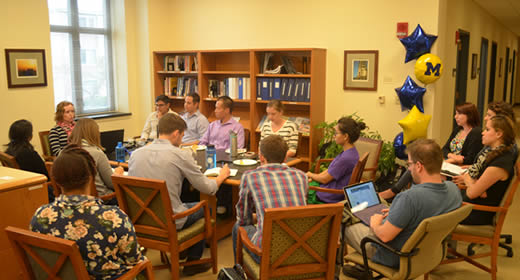 Calling all alumni working in government, consulting, nonprofits, and other policy shops: consider dropping by the Ford School on your next trip to Ann Arbor to meet with students as part of our Alumni-in-Residence program.
Alumni-in-Residence provide professional support to current students through resume reviews, mock interviews, career conversations, and/or office hours.
"Students love to hear from professionals working in their fields of interest and really appreciate the opportunity to engage with alumni," says Elisabeth Johnston, alumni relations manager. The one-on-one time students get from office hours is particularly valuable, she notes.
The Alumni-in-Residence series also energizes visitors. "Alumni returning to the Ford School get to share details about their own careers, passing down valuable information to future generations of policymakers," she says. The program also provides a great opportunity for alumni to meet with potential hires for their organization.
Johnston estimates about 10-15 students attend career conversations and alumni can offer around four to eight individual office hour appointments, depending on their schedule.
So, if you're planning a trip to Ann Arbor, please reach out to Elisabeth Johnston to schedule some time with interested students at eajohnst@umich.edu.
And for those who are unable to visit, but still want to get involved, Johnston is happy to set up virtual visits.
Last year, several alumni called in from around the world. Sean Jones (MPP '00) held a career conversation from his USAID post in Mexico. Andreas Hatzigeorgiu (MPP '09) called in from the Stockholm Chamber of Commerce. And Silvana Kostenbaum (MPP/MUP '04) talked to students from the Inter-American Development Bank in Argentina.
Find other ways to engage with the Ford School here.