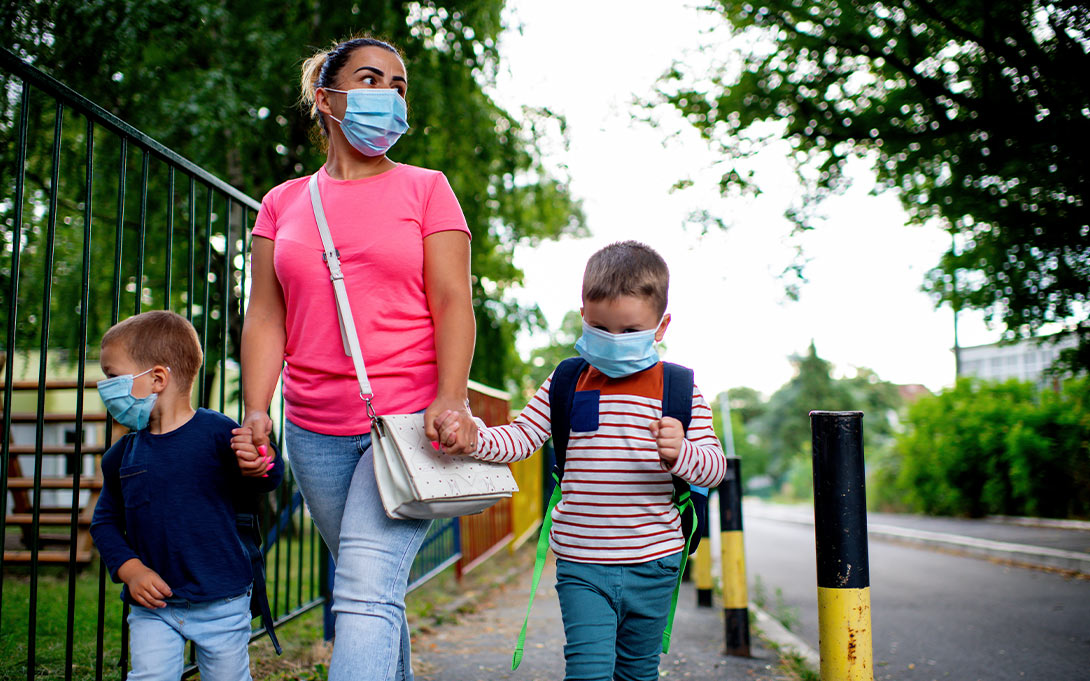 Even in a steady-funded "best case" scenario, teacher turnover, decreases in enrollment, and new safety protocols strain resources and stall quality improvements.
Early childhood education (ECE) centers across the country are facing unprecedented challenges due to the COVID-19 crisis. A new report released by the Education Policy Initiative at the University of Michigan's Gerald R. Ford School of Public Policy provides a snapshot of the challenges faced by early childhood education providers in community-based organizations (CBOs) participating in Boston's Universal Pre-Kindergarten (UPK) expansion.
A team of researchers from the University of Michigan, Boston Public Schools, Harvard Graduate School of Education, and MDRC used administrative data to assess turnover rates, child enrollment, and changes in practices meant to increase safety. Additionally, they used interviews to expand on the findings, incorporating directors' perspectives. 
"The early childhood sector is essential but it has been in a fragile state for decades, due to chronic public under-investment in the United States," explained University of Michigan Associate Professor Christina Weiland.
The Boston UPK program seeks to address these under-investment problems in the sector through a multi-pronged approach, including paying preschool teachers in all settings the same starting salary as their K-12 counterparts and maintaining funding levels during the COVID-19 crisis regardless of enrollment.  Perhaps because of these supports, the researchers found that turnover rates for UPK teachers (18%) and administrators (10%) during the COVID-19 crisis were lower than those found in many other studies before the pandemic. Still, approximately half of UPK centers lost at least a teacher, making quality improvement in CBO centers more difficult. 
In fall 2020, the number of UPK-funded children enrolled in CBOs dropped by 30 percentage points below pre-pandemic levels. Enrollment partially recovered by winter 2021 but was still down by 16 percentage points compared to pre-pandemic levels. In Boston's public school classrooms, however, prekindergarten enrollment drops were significantly lower—about four to eight percentage points in the fall of 2020.
To safely re-open after the state-imposed closures, Boston UPK CBOs employed a range of operational strategies. These both increased their direct costs and indicate very different social and instructional environments for children attending in person (e.g., teachers spending considerable time cleaning and children spending more time in individual activities). 
"Programs have persevered through the pandemic while incurring increased costs for space changes, staff additions due to ratios, materials for spacing, and for some, new technology and supplies needed for remote learning," Boston UPK Director TeeAra Dias said. "They have worked extremely hard and are maintaining Boston UPK's high standard of quality in curriculum elements as much as possible."
The researchers note that Boston's UPK centers continued to receive full and steady funding and coaching support throughout the pandemic. Therefore, the effects described by the researchers "likely represent a 'best case' scenario for community-based ECE centers operating in urban areas serving mostly children from low-income families." They conclude by calling for additional support for the early education sector to mitigate the effects of the pandemic on young children's learning in the critical early years. 
"We will be continuing to follow the Boston UPK centers throughout the crisis.  Evidence from how programs on the ground are coping can aid both in recovery efforts and in charting a more sustainable future for this critical sector," said University of Michigan doctoral student in Education and Psychology Paola Guerrero-Rosada.
The research reported here was conducted as a part of a study funded by the Heising-Simons Foundation and the Foundation for Child Development. The latest policy brief is part of an ongoing study that is tracking implementation of the Boston UPK expansion, including the effects of the crisis on UPK community-based centers.  The Boston Public Schools has offered prekindergarten in public elementary schools since 2005 and is currently partnering with CBOs to expand access to the program and make it universally available to all four-year-old children in Boston. The broader study examining UPK expansion draws on rich data sources such as surveys, administrative data, qualitative interviews, coaching logs, classroom observations, and observations of remote coaching sessions.
You can read the study here.