2020-2021: Climate change
Home | About | 2021-2022 Nationalist Extremism | 2020-2021 Climate change | Previous years
During the 2020-2021 academic year, more than 400 academics, government leaders, non-profit leaders, and private sector leaders joined a series of eight webinar sessions on the topic of North American climate policy, and specifically opportunities for better coordination among the respective policy efforts of Canada, the United States and Mexico. The eight webinars featured twenty-five distinguished scholars, policymakers, NGO leaders and students hailing from all three countries, with the three partner universities all represented.
Webinar topics included a range of important themes. Among them are federalism and intergovernmental relations, natural resources, Indigenous politics, fossil fuel and renewable energy infrastructure, energy siting and transmission, regulatory frameworks, multilateral collaboration and conflict, public opinion, and much more. Panels typically combined academic and non-academic voices, and included heavy participation from students.
Past events
April 12, 2022 - US-Canada climate public opinion and urban climate governance
Authors of papers dealing with the topics of "US-Canada climate public opinion and urban governance" present their key findings and take questions in a discussion moderated by Brendan Boyd (MacEwan University). April 2022.
April 5, 2022 - North American methane policy and "green bilateralism" Authors of papers dealing with the topics of "North American Methane Policy and 'Green Bilateralism'" will present their key findings and take questions in a discussion moderated by Heather Millar (University of New Brunswick). April 2022
March 23, 2022 - North American electricity and energy security
Authors of papers dealing with the topics of "North American electricity and energy security" will present their key findings and take questions in a discussion moderated by Leigh Raymond (Purdue University). March 2022.
April 20, 2021 - Siting renewable energy in North America
Sarah Mills, Heather Millar, and Iñigo Martínez Peniche discuss the political challenges and opportunities associated with siting and building renewable energy projects in the United States, Canada and Mexico. April 2021.
April 8, 2021 – Urban climate governance in North America panel
Leading scholars discuss urban climate governance and talk about what the largest North American cities have been doing to address climate change. April 2021.
Mar 23, 2021 – Public opinion on North American climate policy
Christopher P. Borick, Erick Lachapelle, and Itzkuauhtli Zamora Saenz discuss what Canadian, United States, and Mexican public thinks about climate change, and about how government policy should address it. March 2021.
Mar 9, 2021 – Energy regulation in North America
A former energy policymaker and regulator from the largest and most active U.S. state on climate (California) and a leading Canadian academic discuss North American energy regulation and policy. March 2021.
February 25, 2021 – Politics of pipelines panel
Leading scholars to discuss the politics associated with oil and gas pipeline construction in Canada and the United States. February 2021.
February 3, 2021 – North American climate policy
Debora L. VanNijnatten and Marcela López-Vallejo discuss the current dynamics of climate policy within Canada and Mexico as well as the most promising avenues for climate policy cooperation going forward. February 2021.
December 9, 2020 – Lessons from the Trump Presidency and state policy engagement
Professor Barry Rabe and Dr. Joshua Basseches discuss Rabe's newest book, Trump, the Administrative Presidency, and Federalism, as well as Basseches' ongoing research on the politics of U.S. state-level climate and energy policy. December 2020.
September 24, 2020 – The Challenge of Canadian Energy and Climate Federalism
Professor Macdonald discusses his new book, Carbon Province, Hydro Province, on the challenge of Canadian energy and climate federalism. This event is part of the 2020-2021 North American Colloquium Climate Series.
The full archive of past events is available here.
Working papers
The 2020-2021 Climate NAC also fostered a collaboration among scholars from the three countries, which resulted in eight published reports. The reports can be sorted into three clusters, one dealing with electricity policy and energy security, a second dealing with methane policy and Canada-US bilateralism, and a third dealing with public opinion and the role of cities in climate governance. Taken together, the reports demonstrate that a great deal of work must still be done to ensure climate strategies consider the bigger continental picture, beyond any one country.
Canada-US relations, energy security, and the road to net zero by 2050
Monica Gattinger
The widespread power outage in Texas in early 2021 was a devastating reminder of the importance of energy security. So was the spring 2021 ransomware attack on the Colonial Pipeline, a line that supplies half the gasoline to the US east coast. And the Russian invasion of Ukraine has focused attention squarely on the security of oil and gas supplies in global energy markets.
Mexico-US cross-border electricity hubs: Limitations and opportunities for decarbonization
Marcela López-Vallejo
The Mexico-U.S. cross-border integration of the oil-and-gas sector is profound, contrasting with electricity trade and renewables. Policies on both sides do not prioritize the decarbonization of the energy trade.
The US-Canada (clean) electricity relationship: Challenges and opportunities in policy design and coordination
Joshua Basseches, Nwamaka Ikenze
Both the United States and Canada have made significant commitments to reduce their climate-changing greenhouse gas (GHG) emissions. But importantly, both countries have also adopted the same grand strategy to do so: "electrify everything."
Canada-US green bilateralism: Targeting cooperation for climate mitigation
Debora VanNijnatten, Mark McWhinney
Under the Biden administration and the Trudeau government, the U.S. and Canadian commitment to bilateral cooperation on climate is both strong and comprehensive. This stands in stark contrast to the complete lack of engagement under the previous Trump government and the decidedly uncomfortable Harper/Obama relationship on climate.
The 'dark horse' of climate change: Agricultural methane governance in the United States and Canada
Trish Fisher
Methane emissions took the spotlight at the 2021 United Nations Climate Change Conference of Parties (COP26) in Glasgow, Scotland. In the run-up to COP26, the United States (US) and European Union (EU) announced the Global Methane Pledge, a voluntary commitment to reduce global methane emissions by at least 30 percent below 2020 levels by 2030. To date, 111 countries, representing roughly 70 percent of the global economy and nearly half of global anthropogenic methane emissions, have signed on.
The politics of short-lived climate pollutants and North American methane policy
Barry Rabe
This paper examines the continued political challenge of developing a robust methane mitigation policy regime in most oil and gas producing jurisdictions in the United States and its North American neighbors.
City powers and the governance of urban GHG emissions in the U.S. and Canada
Sara Hughes
Reducing urban greenhouse gas (GHG) emissions is critical to meeting larger climate change targets. Cities are responsible for as much as 75 percent of fossil fuel CO2 emissions due to high levels of energy use and consumption plus fossil fuel-intensive transportation systems (IPCC 2014).
A decade of comparative Canadian and American public opinion on climate change
Erick Lachapelle, Chris Borick
As people around the world increasingly experience the effects of climate change, governments have been slow to enact policies that are consistent with the target of keeping global warming below 2oC agreed upon at the Paris climate talks in 2015. Since being sworn in as President of the United States in 2021, the Joe Biden administration has taken steps to reengage with international climate policy while attempting to reverse the climate policy rollbacks of the previous Trump administration, which all but obliterated Obama era executive efforts to curb greenhouse gas emissions in the U.S.
Have any questions?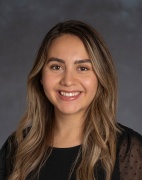 Administrative Assistant, International Policy Center and Weiser Diplomacy Center
Weill Hall #3310
735 S. State Street
Ann Arbor, MI, 48109